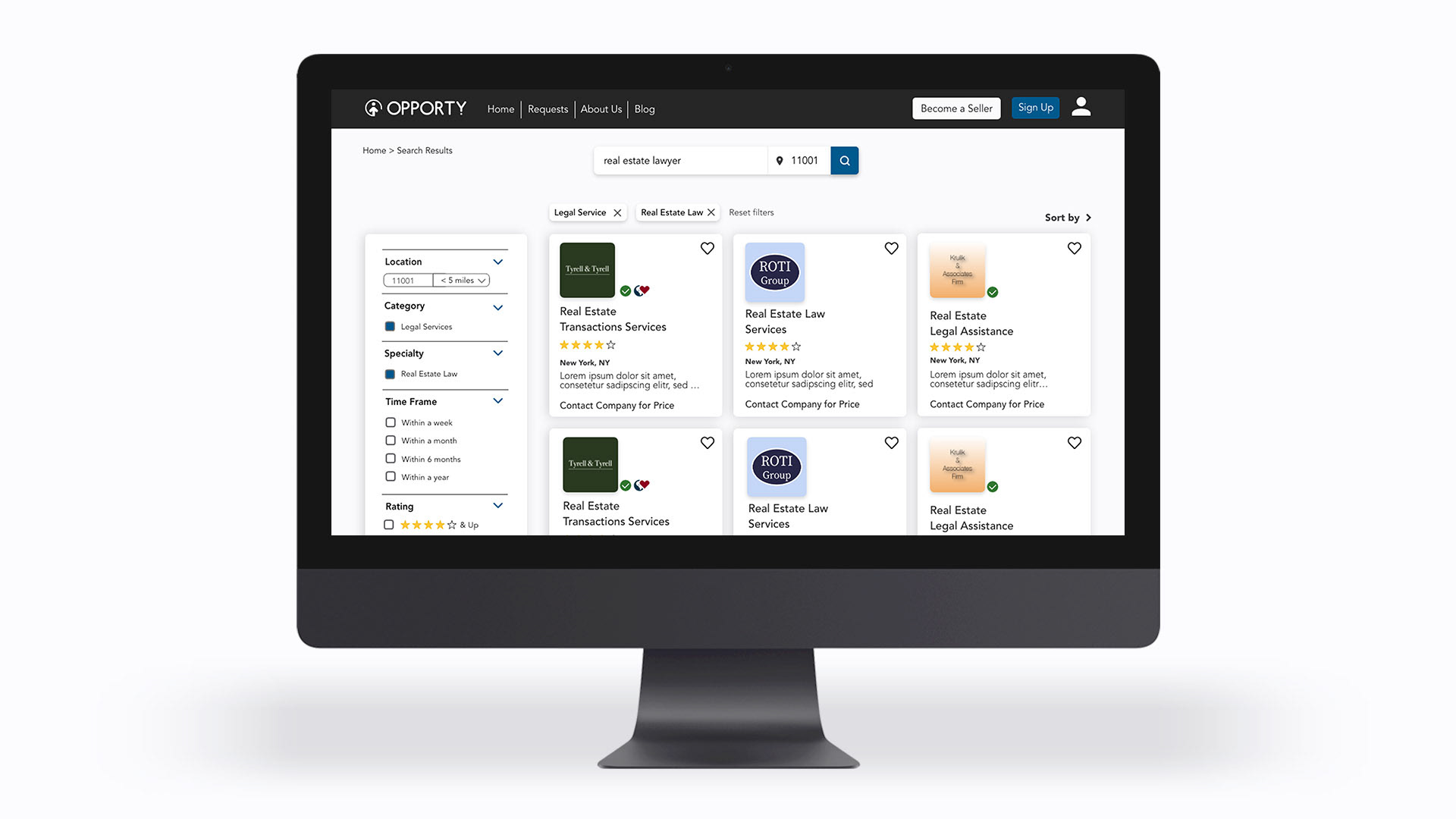 Opporty is a community that allows businesses to market a wide range of services to customers through its marketplace and service request features.

 It is cryptocurrency-friendly and has a goal to support businesses owned by or hiring people coming from disadvantaged backgrounds.
Problems
• The marketplace suffered in conveying what it offered, in its navigability, and in building users's trust
• The client wanted to expand on Opporty's social impact mission in a safe and ethical way
Solutions
• Marketplace was redesigned to be clearer, more navigable, trustworthy, and visually current
• Allow businesses to provide a freeform description of the social impact they provide
Interviews, Wireframing, UI Design, Prototyping

Research
Interviews, usability tests, as well as comparative and heuristic analyses were carried out by the team
. I focused on designing the interviews.
Interviews
What needed to be known about users:
• How they search for services to contract online and offline
• Their valuation of a service's social impact
• Their experiences with cryptocurrencies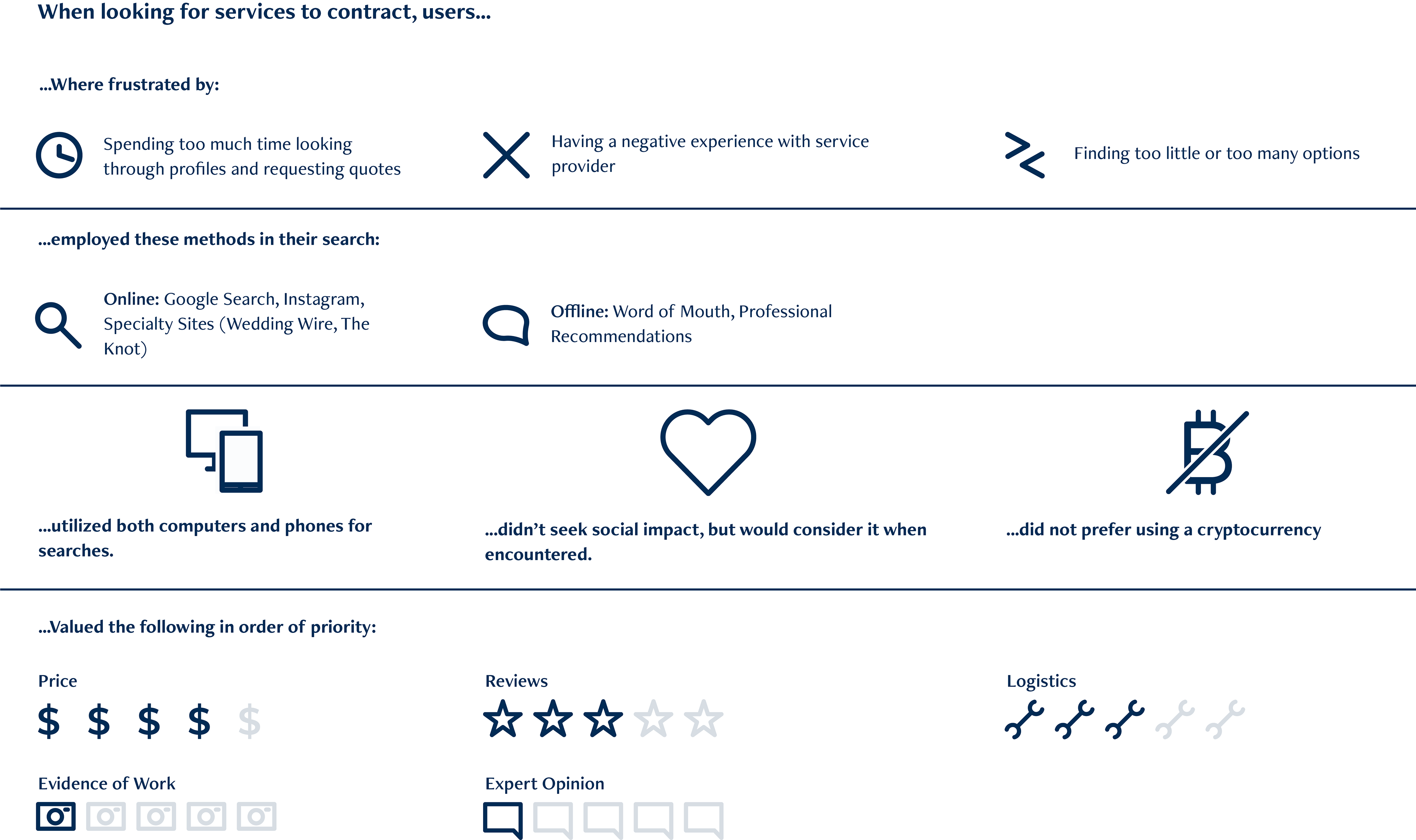 Findings from the interviews and usability tests were gathered into an affinity diagram.
Four areas in which the experience could be improved were found and are illustrated below in a word-cloud derived from the diagram: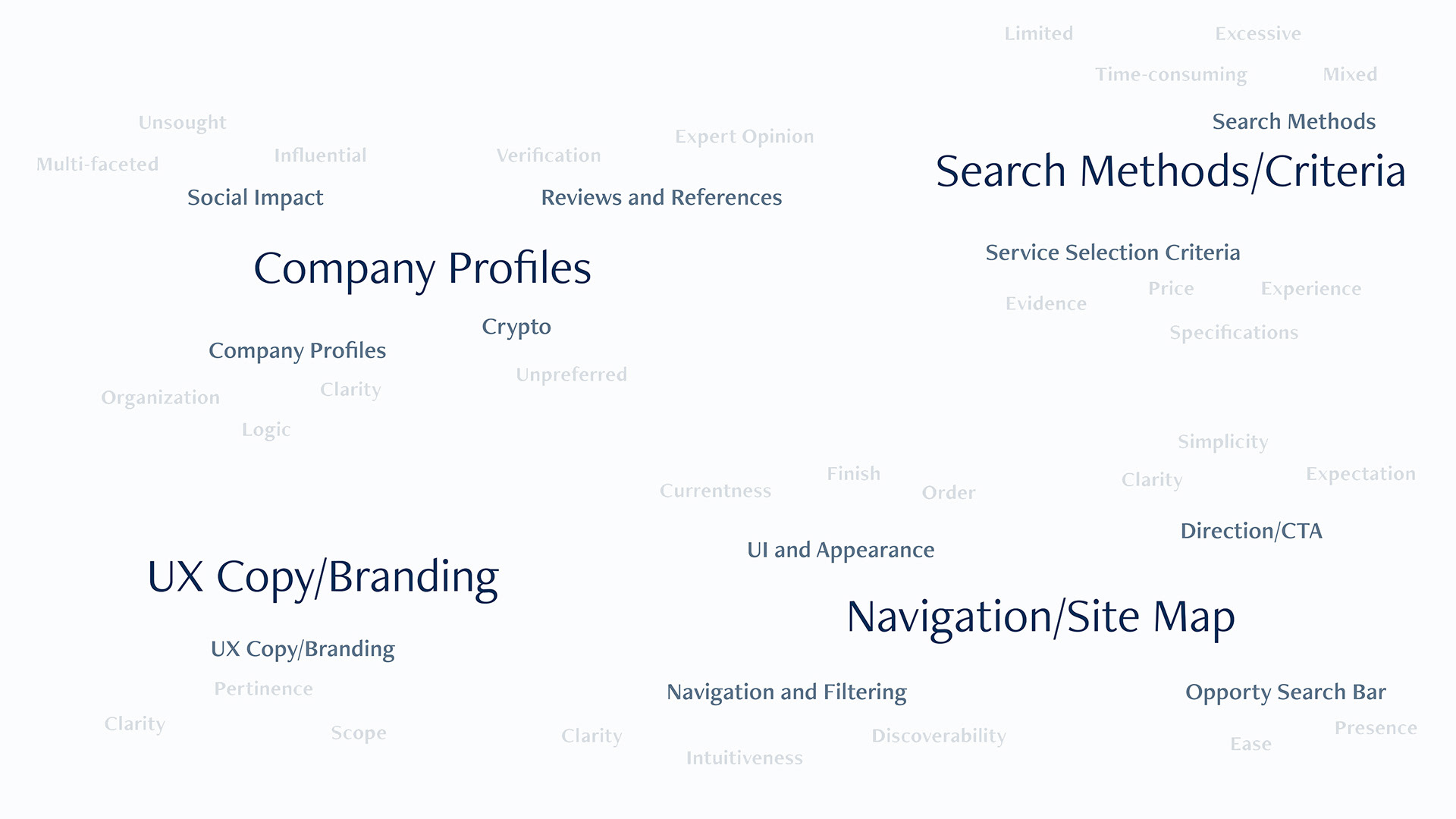 The focus on social impact fell diminished due to findings and the client requesting we prioritize the overall experience. 
However, this wouldn't be the end of it...

Design
The team set off to make the marketplace's offerings 

evident and trustworthy

, and the search/navigation processes easy and enjoyable. 
Each team member made their own contribution. I was most involved in the latter step of combining our sketches together in ways that best addressed users's needs.


Social Impact... Again
As wireframes were being completed, the client requested we bring social impact back into the picture.
The risks of this territory created a lot of tension during team and client discussions.
• Most of the solutions discussed had a large potential for abuse and misuse (such as gamification)
• This was politically and legally sensitive territory
• There were different ideas about which groups and causes to include
We solved this with freeform descriptions of a businesses's social impact and badges for those who complete these. This avoids gamification, minimizes Opporty's role in creating definitions, and allows for a range of contributions.
Wireframes and Prototype
Once the social impact bit was resolved, wireframes and a lo-fi prototype were finalized.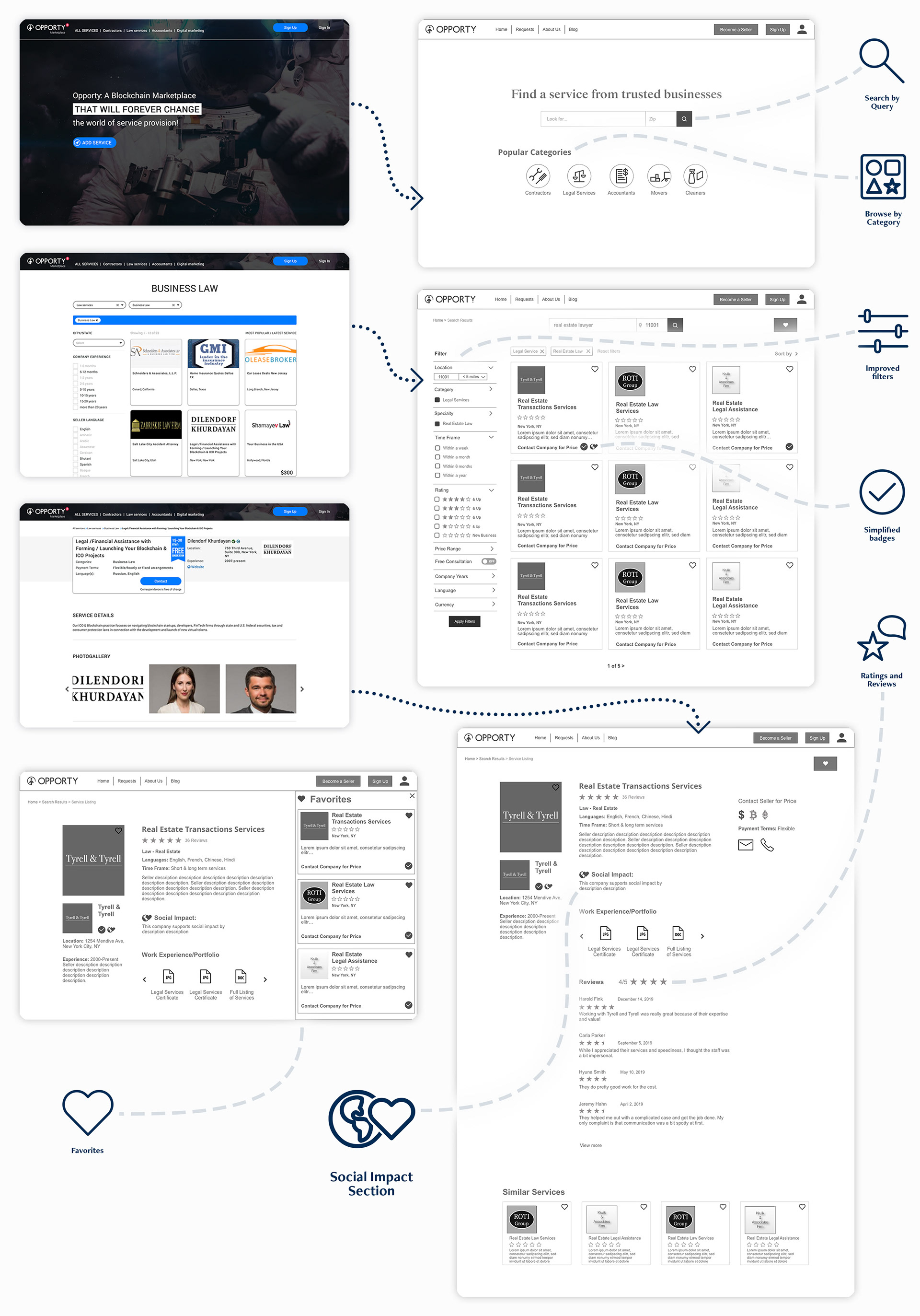 User Testing
The prototype was tested and the feedback was delightfully positive. Minor problems were discovered, but
 users were generally able to complete the tasks with ease.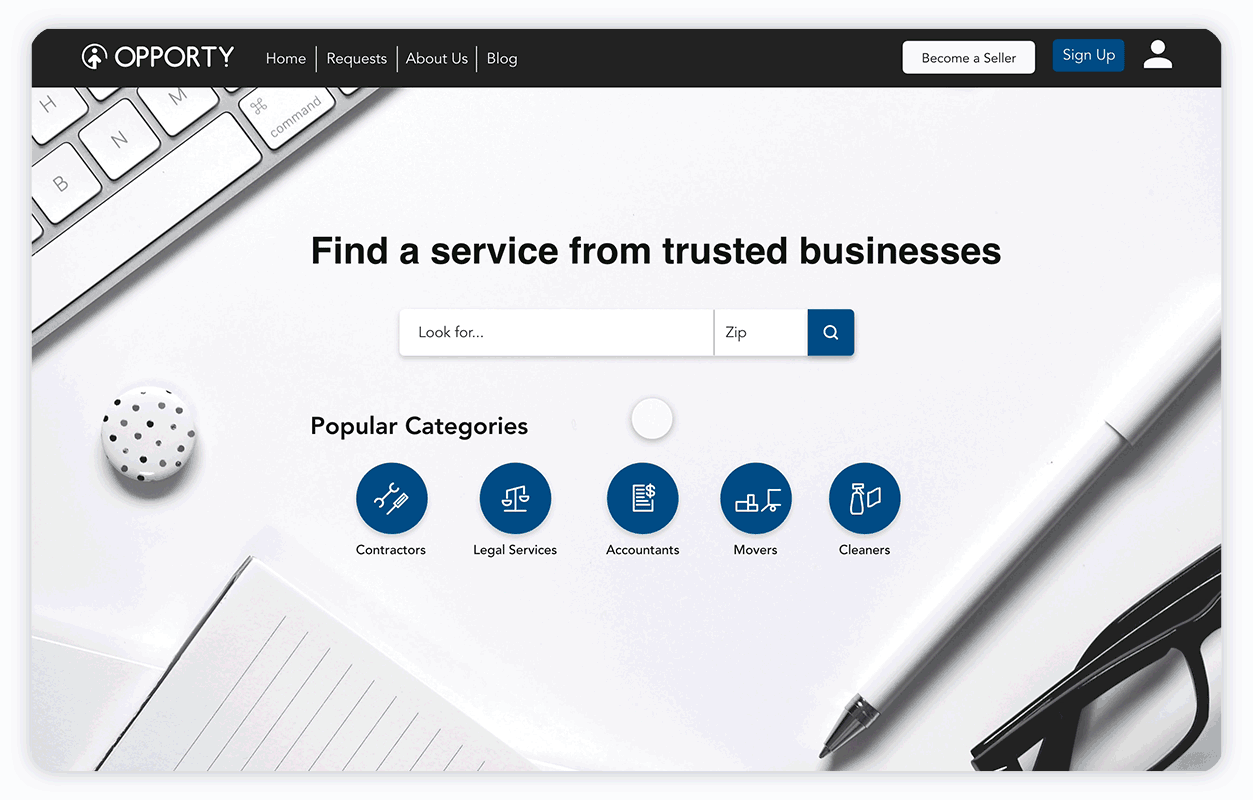 In response to user feedback the visual design was refreshed for clarity and currentness. The team made sure to validate for visual contrast and the design achieved WCAG AAA conformance for accessibility.
Next Steps
We are still awaiting the implementation of our design and looking forward to seeing how it performs out in the world.
In anticipation, we made a few recommendations to our client:
• Test the usage of the social impact feature
• Further testing and improvements on the accessibility of the site so as to be inclusive of more people